I have known Mommy Gen, a happy Mom like me from PMC. Her blog would be a year old this coming 8th of September, so as a way to celebrate it she made a contest,
BLOGVERSARY GIVEAWAYS
.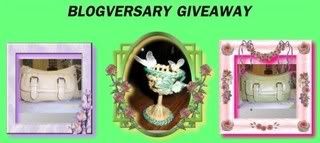 And now I am joining it to try my luck on winning the cool prizes Mommy Gen has, to support her as a friend, and to celebrate with her on her blogversary.
This contest is sponsored by Merydith of
Merydith's Place
, Cathy of
Me and My World
and of course, the blog owner herself, Mommy Gen of
The Joy of Life Forever
.
To Mommy Gen, congratulations on your Blogversary! *wink
_____________